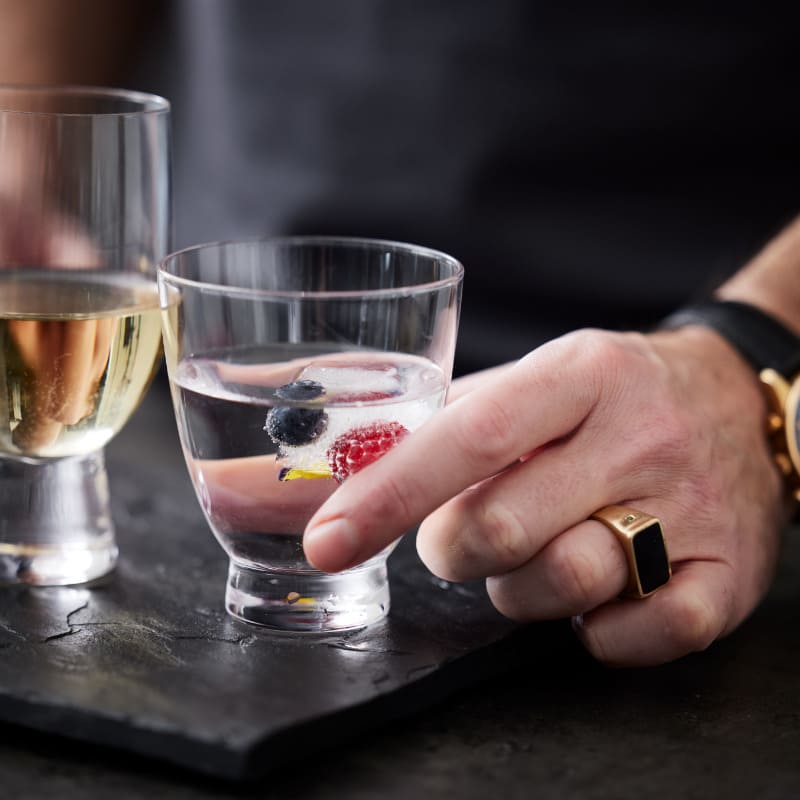 When we eat meals together with others, we think more about how much and what we are eating – quite simply, we eat in a more health-conscious way. Sharing a meal also strengthens relationships and a sense of family togetherness. The food is, of course, the focus, but the togetherness and atmosphere are of enormous importance. Telling one another about your day and taking the time to have meaningful conversations helps to make mealtimes incredibly valuable for the family and the family's overall development.
Christian Bitz
– an innovative health realist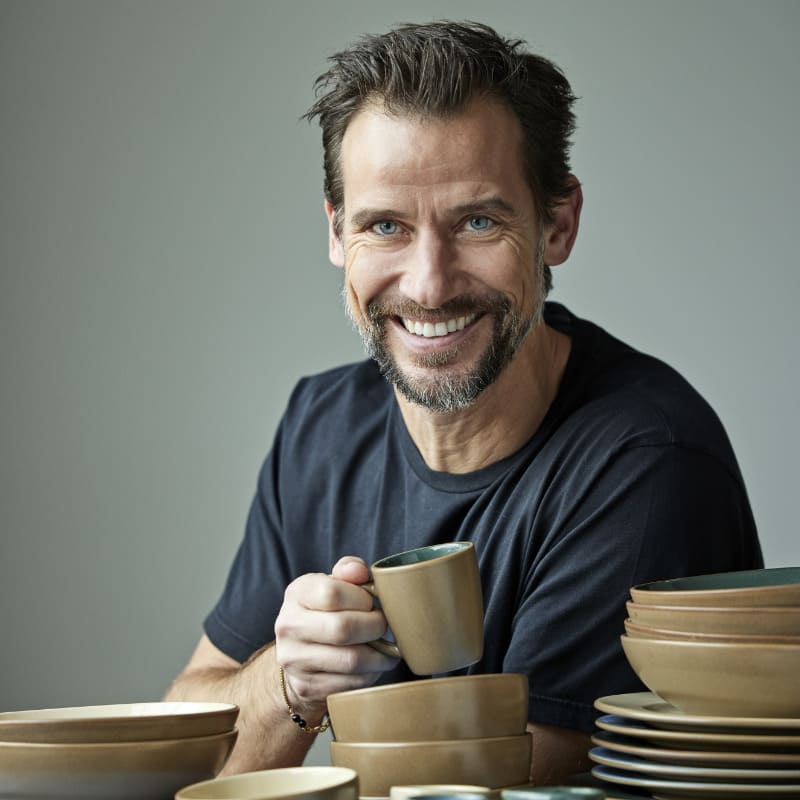 Christian Bitz holds a master's degree in human nutritional science. His goal is to make the population healthier. Health must be based on solid science, and it should feel great for the individual. Bitz has managed to pull the health wave in a realistic direction, where it is actually possible to start a healthier life – it has to be fun, and the switch to healthier living must be driven by desire.
The BITZ collection consists of cutlery, dinnerware, bowls, glasses, vases, textiles and much, much more. Different materials contribute structures and colours that create contrasts in the table setting and help make the meal an experience. An experience where time spent around the table is enjoyable, and our tummies have enough time to register a pleasant feeling of fullness. This is one of the keys to a healthier life, as Christian Bitz explains:
When we eat, we need to tantalise more than just our taste buds. This can make mealtimes a better experience, so you'll want to spend longer savouring the food. This makes it easier to control portion sizes, because it takes the body 20 minutes from the first bite of food until the brain registers the feeling of fullness – and, during that time, you can easily end up eating too much. You don't have to be ascetic, as long as you eat a good variety of smaller portions.
or many people, something as simple as just eating a little less can have a huge effect on their figure, shape and future.
So, enjoy your meal with cutlery made from the hottest contemporary materials; drink from beautiful glasses and serve the food on beautiful dishes and plates that challenge the traditional table setting while making it easy to eat less and to eat in a more health-conscious way. Together.
Inspiration comes
from nature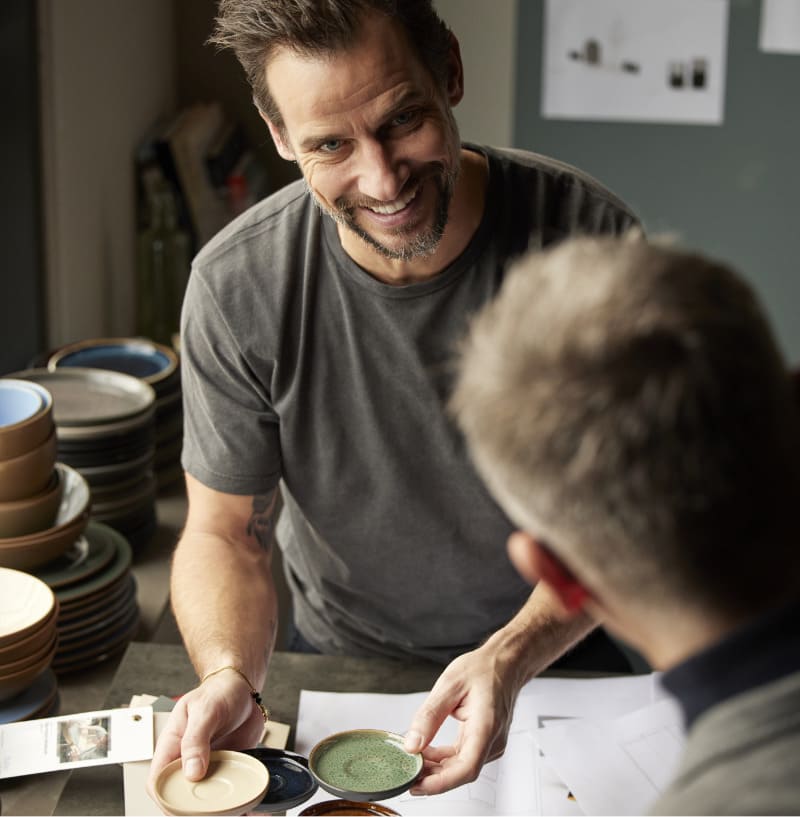 WHAT DOES YOUR EVERYDAY LIFE LOOK LIKE?
I live north of Copenhagen with my partner, our four teenage daughters and our dog, Vitus. My days are very different. Most of the time I'm on the road all across Denmark giving talks and attending meetings. I don't have an office, so everything – including idea development and designing BITZ products – takes place in my home.
HOW DO YOU STAY HEALTHY?
I eat a lot of vegetables throughout the day, starting in the morning. I strive to think positive and always make sure to actively seek out what is healthy, rather than just avoiding what is unhealthy. I'm also very physically active. I work out every day and do all kinds of sports: running, fitness, SUP, tennis and paddle tennis. As often as possible, I travel to my second home in Italy, where I surf in the sea and cycle in the mountains.
WHEN DID YOU BEGIN DESIGNING KITCHEN PRODUCTS?
In 2016, I launched a stoneware dinnerware range together with F&H. I wanted to influence people's health and eating habits. Talking and writing about health is one thing, but to have a direct impact and encourage healthier eating – that was a new and exciting mission for me.
HOW DO HEALTH AND NUTRITION AND RELATE TO PRODUCT DESIGN?
Scientific research has shown that tableware can affect what and how you eat. Take plate size – with a smaller eating area, you take smaller portions because the food actually appears to take up more space on the plate. That means fewer calories without feeling like you're missing out. This is the background to our classic plate collection.
Making an effort to set an inviting table also has an impact on health. Instead of seeing daily meals just as something that needs to be done, spend a little more time on them. It takes 20 minutes from the first bite for the satiety signals to start to appear, so slow down and eat less.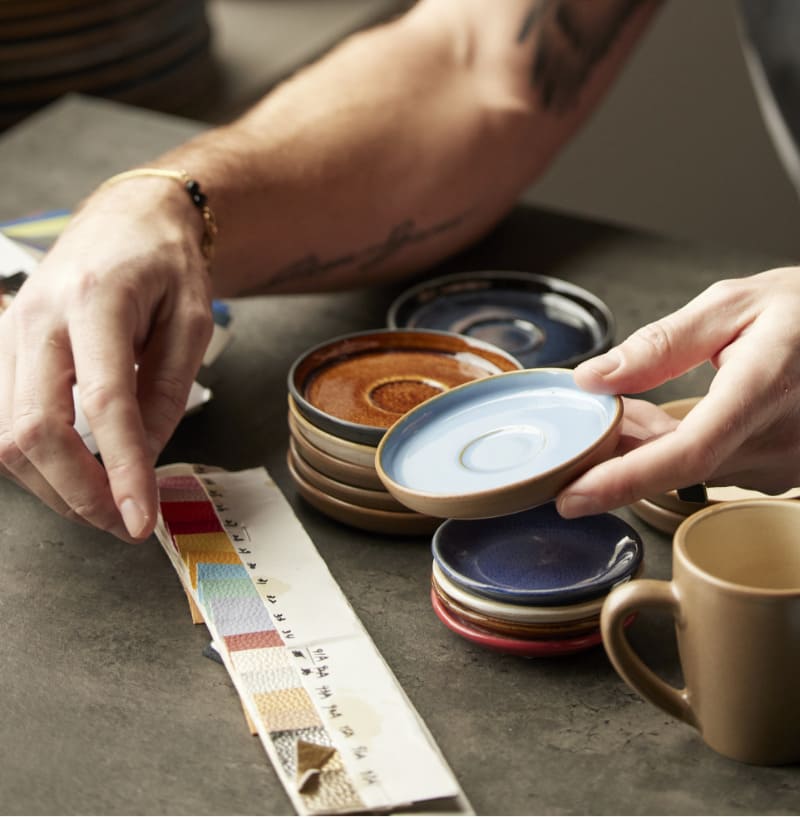 When we eat meals together with others, we also think more about how much and what we are eating – quite simply, we eat in a more health-conscious way. Sharing a meal also strengthens family relationships and a sense of presence. Food is of course in focus, but togetherness and atmosphere are also highly important.
WHERE DO YOU FIND YOUR INSPIRATION?
Nature is my greatest source of inspiration. Every time I exercise in nature, I get inspired. I love the unpredictability and imperfection of nature, which I try to incorporate into our designs when we combine materials and colours. Plates in different colours give you more options when arranging your food. Broccoli on a black surface looks different than it does on a green one. Team the plates with colourful glasses and cutlery in different materials and enjoy how beautiful your dinnertime can be.
HOW DO YOU ENVISION THE TABLEWARE OF THE FUTURE?
We work closely with our agents around the world to better understand the food cultures and traditions of different countries. It's exciting to develop the brand from a Scandinavian to a global brand. At the same time, it is important that we do not lose sight of our primary mission and our DNA. I acquire a lot of knowledge about eating habits around the world, which is incredible – and incredibly useful.
WHAT'S YOUR TOP TABLE SETTING TIP?
Keep it simple and make a few bold changes, but at your own pace. Don't integrate complete makeovers from magazines and influencers, but let it be personal and reflect who you are.
An informal concept
boosting awareness
OF HEALTHY FOOD AND FOCUSING ON EATING TOGETHER
Creativity is so much greater when we work together than when we develop ideas separately.
Not because we think alike, but because we play off each other's energies.
Kåre Dehn, commercial director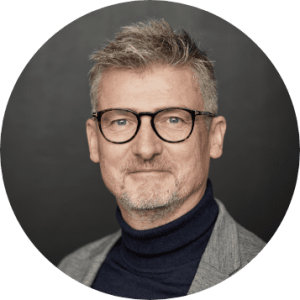 KÅRE DEHN, COMMERCIAL DIRECTOR
I met Christian Bitz at the end of 2014 and we clicked from the very start. Creativity is so much greater when we work together than when we develop ideas separately. Not because we think alike, but because we play off each other's energies.
Christian had some thoughts about how he could use his knowledge and professionalism to inspire people to think more about their health. A few years earlier, he had been involved in a research project that concluded, among other things, that the size of a plate's eating surface plays a large role in how much food we eat, while another study showed that for some reason we eat more vegetables if they are served on a blue plate. These ideas were the starting point for the collaboration between F&H and Christian Bitz and became the basis for the new brand, BITZ.
In 2016, we introduced stoneware in grey, black and green, and as early as 2017 we began experimenting with other gorgeous glaze colours, which was an instant success. Over the years, we have worked with more than ten different colours, with dark blue, green and amber being the most popular. Our latest combinations with a new colour, Wood, have also been well received.
All products and colours are designed and developed in close collaboration between F&H, external designers and Christian Bitz. Since our introduction, we have launched more than 500 products, and we continue with the motivation and drive to develop new products.
Inspiration for you
Follow @bitzliving on Instagram